The Debt Battle – Quantified
You want to know who's fighting for you? Â And who's fighting for the billionaires out there? Â I thought I'd quantify if for people. Â And here it is: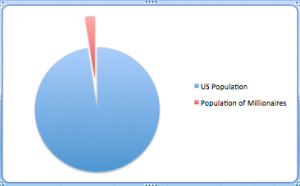 How's that? Â In 2010, there were 308,000,000 Americans in the United States. Â At that same time, there were 7,800,000 millionaires. Â Democrats (blue) are fighting for every single person in the United States. Â Republicans (red) are fighting ONLY FOR THE MILLIONAIRES. Â How else can you explain why Republicans are refusing to allow tax increases on millionaires?
Based on 2010 values (click to view): Number of millionaires, Population of the United States